Auxliary Equipment
Q-BELT - PELLETMILL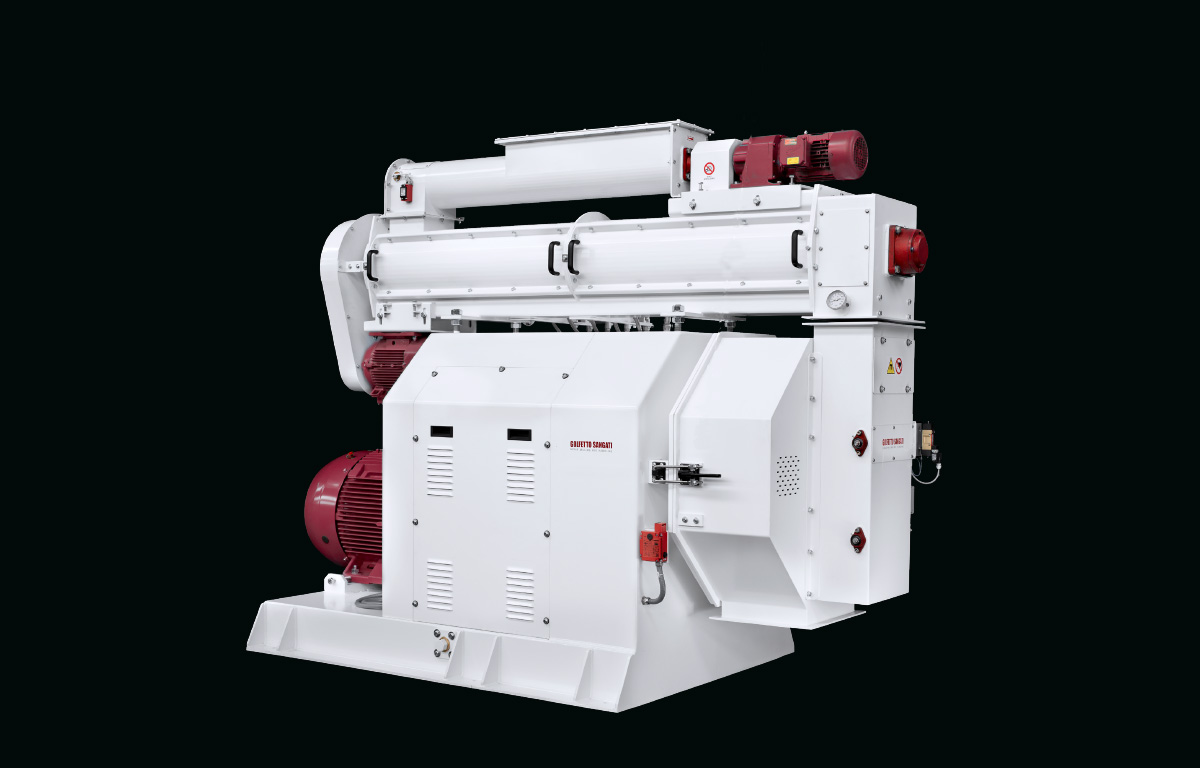 Machine designed to produce simple and compound pellets for animal feed or wheat by-products.
Materie prime
Durum
Maize
Oat
Rice
Soft wheat
Description
Machine is composed of three parts: doser feeder, conditioner and press.
The screw doser feeder measures the product amount that enters the machine. The product is then conveyed towards the conditioning chamber "condisan", designed for thermal treatment of animal feed in order to inhibit salmonellas. The rotor is composed of two series of paddles, allowing transportation of product (external paddles) and even mix and absorption of steam or liquids added to product (molasses, fat, aromas etc.). The conditioner is made of a stainless-steel body and it is equipped with a unidirectional thermic screen realized through the application of electrical thermal blankets which allow both steam and temperature management of the product.
A fixed disk system and a rotating counter-disk allows the vibration of the capacity. The steam input is managed thanks to nozzles placed on half the length which allows for not only dosing the quantity but also improving the homogenization.
Product input from the condisan to the press happens thanks to gravity, through a stainless-steel conduit equipped with magnets and an electropneumatic deviation valve interlocked with the principal motor that works in case of clogging. Adjustable blades have been specifically designed to perform pellet cutting. The door mounted on an adjustable hinge features adjustable closing on a stainless-steel element, guaranteeing a perfect seal.
An electromechanical block allows the door to open only after machine stop. Unlock approval is given by an inductive sensor that signs when the machine is not moving. Two adjustable scrapers ensure a perfect product distribution on the whole surface, allowing the rollers for even operations during the compression phase.
The Q-BELT is in stainless steel and food painted steel, guaranteeing compliance with all sanitary regulations and easing the washing process.
The Q-BELT ensures great dosage regulation, vibration absorption, possibility to preserve compound pellets up to 90 days.
Contact us for advice
Our specialized consultants are available for a no-commitment meeting in which to listen to your needs and evaluate the technologies best suited for your production objectives. 
CONTACT US